Before leaving for Japan, I picked out three sensible pairs of shoes to wear on our two-week long vacation. What I did not do, was choose three worn in pairs I knew would withstand long days of constantly being on my feet. I thought since they weren't heels and were from brands I had worn before I would be okay. I was not. After two days, my feet were aching and sore, and the only pair that wasn't an absolute nightmare was my rubber rain boots. Which while cute we hot as heck to wear when it wasn't raining.
So, with no other options, I had to find a new pair of comfortable shoes in Japan. Now, I have a fairly average shoe size in North America, size 8. I know it's average since it they're always the first ones out of stock when I go shopping during sales. But in Japan, a size eight might as well be a monster. On the third day in Japan Dan and I made it our mission to visit every single shoe store we came upon to find me a pair.
Shoe stores in Japan are a fascinating thing. There are plenty of fancy shoe store just like there are in North America, but most shoes there cost upwards of $120 (USD), and I've never spent that much on shoes and wasn't going to start now. But, what Japan has in abundance is cheap, sometimes knock off brand, shoe store. The shoes in this store are stacked higgledy-piggledy, sometimes as high as the ceiling.
It's like looking for a needle in a haystack. Despite the fact that a size eight women were impossible to find, a size 8 in men's was just as ridiculous. Women's feet just aren't that big, and men's feet just aren't that small. Catch 22. It was quite amusing to look through all these random shoe stores. I found dozens of excellent pairs I wished I could have bought but alas everything I tried on was just too small.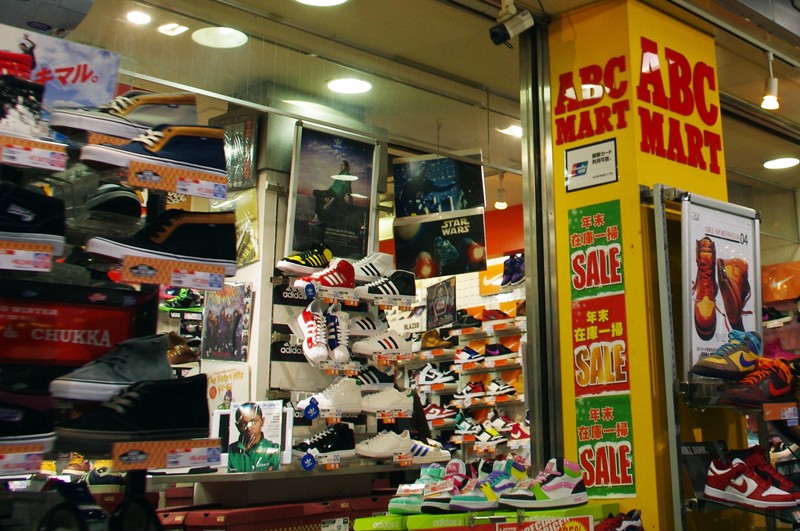 Finally, we found a store selling reasonably priced Addidas shoes with one last pair, in men's sizing of course, that fit my foot. As I slide my swollen and bruised foot inside this cushion-filled shoe, I could feel a wave of relief wash over me.
Despite the comfort, they weren't the cutest shoes I'd ever seen. But seeing as we were in Japan, there was no shortage of stores selling shoe accessories which made a simple pair of shoes, a unique work of art. At Shibuya 109, a modern shopping mall in the centre of Toyko, I found a store which carried every kind of shoe accessory anyone could have ever wanted.
'Doll Kiss' on the third floor of Shibuya 109 sells colourful socks and tights, as well as all sorts of playful designs which can be added to any pair of shoes. I picked out a neon pair of laces and a matching pair of angel wings which, when strung onto the laces, looked like that greek god with the winged heels.
I wore these shoes every single day. I never even put back on either of the other pairs I brought along with me, in high favour of comfort over style. But then again, with these shoes, you can get it all.