Nakano Broadway is an indoor shopping complex with over five floors of anime, manga, figurines, rare toys and retro electronics along with lots of generic Japanese Pop Culture goodies. If you are into "otaku" (nerd) culture or want to get all nostalgic over retro toys or just are looking for a super neat place to wander on a rainy day you HAVE to check out Nakano Broadway. Many people (me included) travel to Akihabara for these types of finds, but after visiting Nakano, you'll see this is without a doubt the better place to go. You don't need to travel blocks from shop to shop to find an individual item, dodging a tirade of girls in maid costumes handing out flyers on your way. Everything is in one little building, and the indoor feature makes it an excellent option in the rain, intense heat or frigid cold!
The variety, sheer amount of stuff and quality is much greater here than in Akihabara too. Rental space is much cheaper so businesses can sell better items at more reasonable prices. To get to Nakano, take the JR rail to Nakano station on the Chuo/Sobu line. Use the west exit and head towards Nakano Sun Mall shopping arcade.
The Sun Mall shopping centre is a 225 meter long, glass-covered shopping street with a wide variety of stores, including food joints, cafes, jewellers, fashion boutiques, pharmacies, game centres, book stores and electronics. If you're looking for a cheap watch - this is a great place to go. They have tonnes of "replica" watches in a myriad of styles and colours. I was in desperate need of a new pair of shoes. The ones I brought with me with woefully uncomfortable but in every shoe store I went to they never had any shoes big enough for me. I'm only a size US 8 but in Japan that is basically a giant. On the flip side, the boy's shoes were either too big or way too expensive. Luckily, the hundreds and thousands of shoes along this street proved to be my lucky charm, and I finally found one at a reasonably price that felt like I was walking on air!
Branching off from the shopping street, you can find all different restaurants and izakayas serving everything from traditional Japanese food to American hamburgers.
After travelling through the Sun Mall shops, we finally come to the entrance of Nakano Broadway. Nakano was built in 1966 as an extension of the Sun Mall. Although the building is over ten storeys tall, only four are open to the public. The rest are luxury apartments with access to a beautiful roof garden, swimming pool and golf range.
The first floor of Nakano Broadway is mainly clothing stores, cosmetics, shoes and second-hand products. This is probably the most mundane of all the levels and worth skipping over if you're just looking for otaku items. But be sure to head on down to the basement level to check out their extensive marketplace.
The basement level is where many locals come to do their shopping. As soon as you descend the stairs, you'll be able to smell the fish and meat, but there are also lots of brightly coloured fruits and veggies for sale as well. There are skewers of grilled meat, small ramen shops and even cheap okonomiyaki ready to try. If you're looking for Japanese cooking goods or utensils, this is also a great place to come to shop.
The real reason we came to the basement, was for the ice cream! Daily Chiko's Tokudai Soft Cream is a small ice cream shop with GIANT servings and lots of different flavours. For only 390 yen ($4) you can get all ten flavours together all on one cone. Or if you're not up for the task, you can order a single, double or triple serving of your favourite flavour combinations.
We clearly went for the ten layers and we NOT disappointed. Soft serve ice cream in Japan is so creamy and delicious and never feels cheap like it can in Canada. Even at such a low price, you'll get some of the best tasting ice cream.
The layers of ice cream were (from top to bottom); ramune (soda flavour), chocolate, banana, strawberry, matcha, coffee, black sesame and vanilla. My favourite was by far the Ramune, I LOVE this flavour so much and miss it dearly now that I'm back in Canada. I wish they had had taro but all in all, despite having so my flavours, there was nothing to complain about.
At Nakano, you'll also find the motherlode of gachapon vending machines at Akihabara's Gachapon Kaikan. Here there are over 450 different devices, and we even found a few vintage machines with older toys inside. I got a Sailor Moon plastic finger puppet that looked like it been there since the show first came out.
There were also lots of modern vending machines selling various gachapon sets I hadn't seen in other locations. If you're a collector, this is the place to come to the newest in gachapon collections.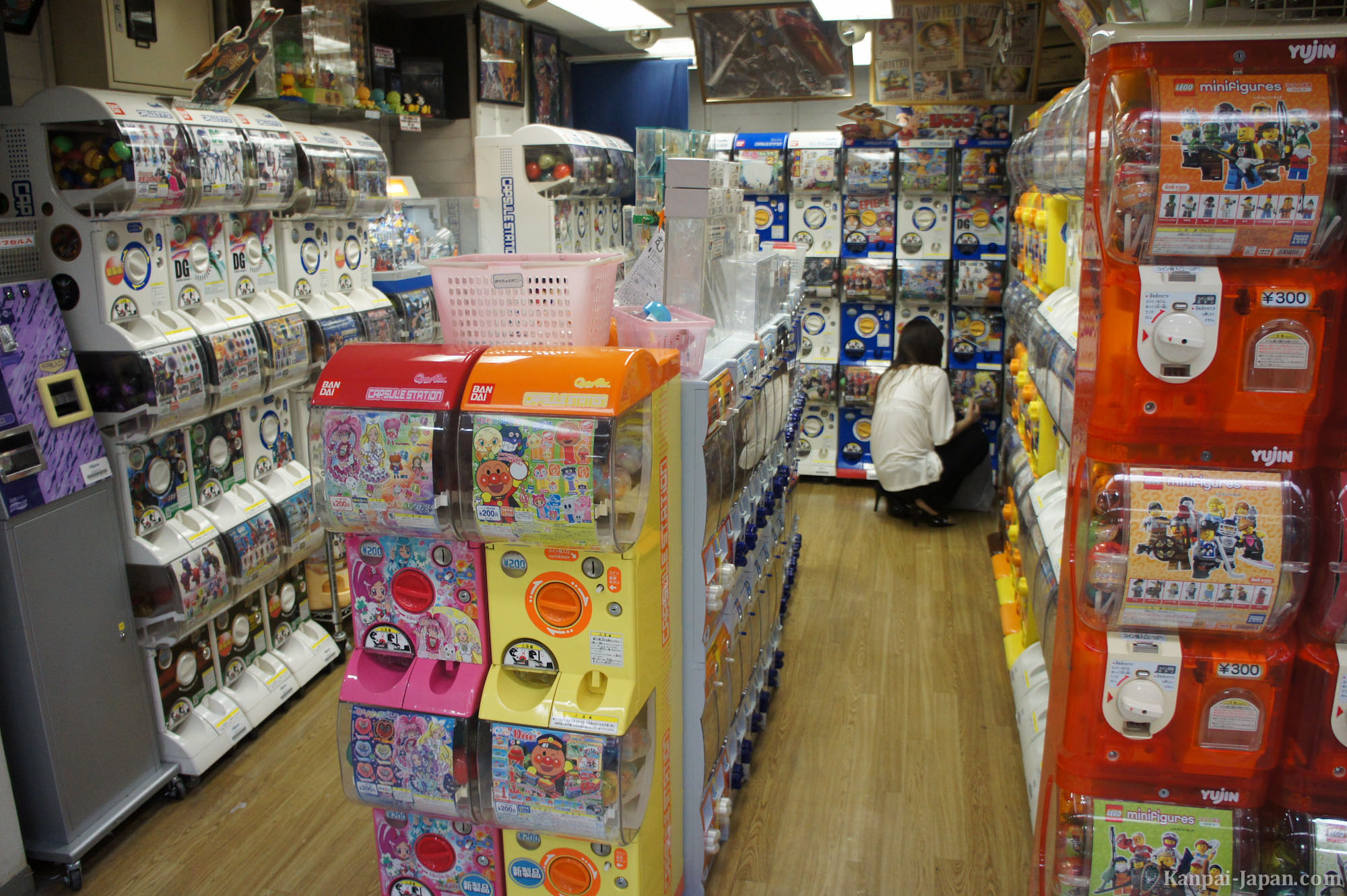 When you head up to the stores on the 2nd, 3rd and 4th floors, you might be surprised by a few things when you first arrive. The biggest difference is many of these shops don't have anyone behind the counter. In fact, sometimes there is no counter. Everything you see is behind glass cabinets that rise from the floor to the ceiling. The tiny shops are only a few feet wide, and sometimes no more than two or three people can squeeze inside together. If you see an item you're interested in buying, you need to ring a bell, and the vendor will come and unlock the cabinet for you. Some of the bigger stores do have registers and don't have all that glass, but the best ones, where you'll find those hidden gems, usually do.
While there are floor guides available, the best way to experience Nakano is just to explore. But there was a few standout items and store that we thought were definitely worth searching out.
Mandarake is a big name in manga and anime in Japan. They have an enormous multi-level store is in Akihabara but their location in Nakano, established in 1980, is nothing to scoff at. The one on the second-floor functions as a secondhand bookshop where people can come in, and trade used manga or books they've already read for other second hands books. It's a great way to encourage reading by lowering the price point but also promotes recycling and reduces waste. Manga (Japanese comics) are usually very quick to read but not always super cheap, so this is a great option for avid readers with a small budget.
If you're looking for Disney goods, you have to check out ROBOT ROBOT2 on the 3rd floor. They sell all sorts of different Disney Resort merchandise from pins, stuffed animals and clothes. This place is also known for their collectable car models and original "cels".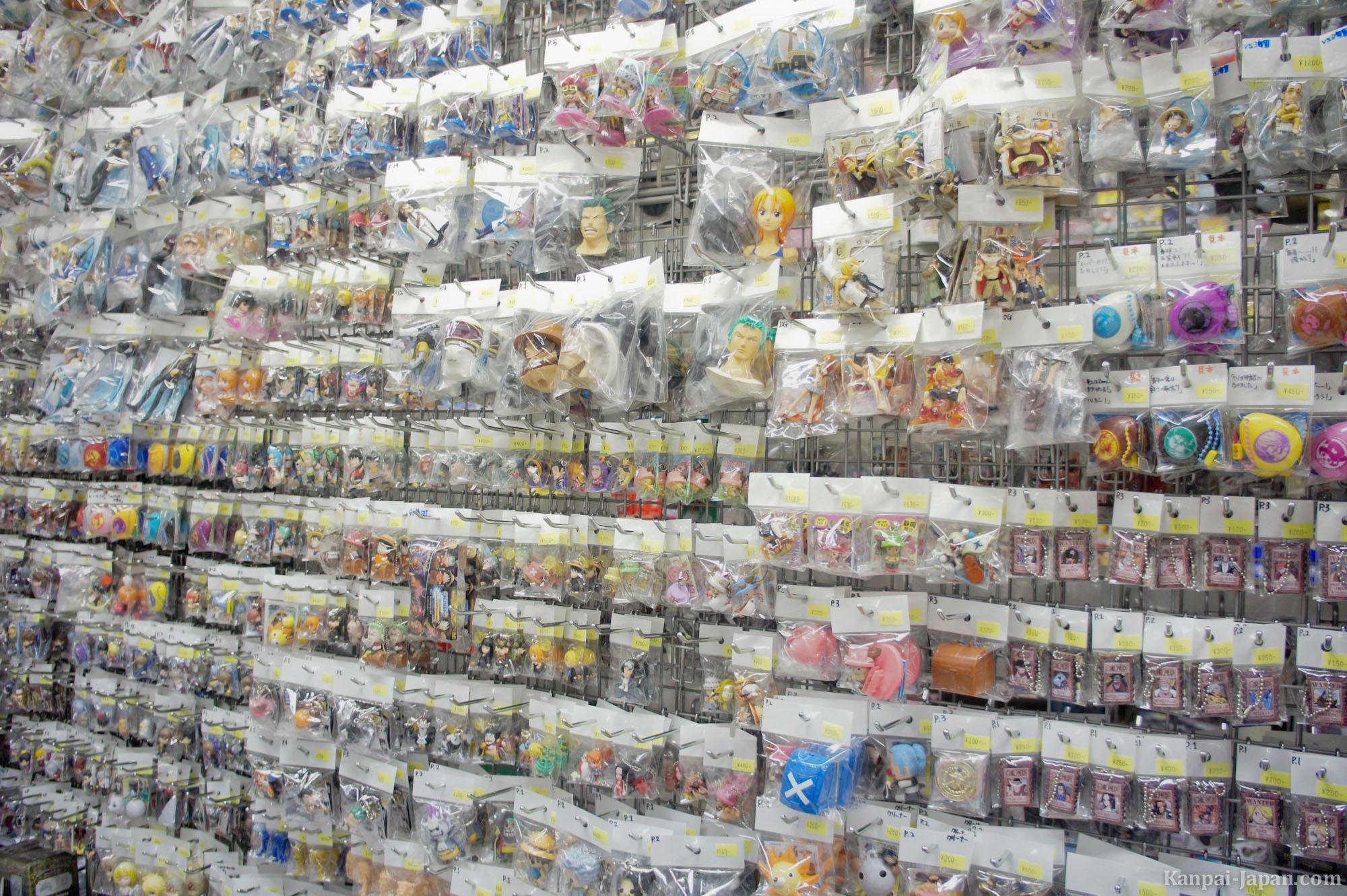 The GODZILLAYA, or Godzilla store, features vintage merchandise specialising in the Japan's own, Godzilla monster. You can find plastic figurines, movie posters and more in this tiny, little shop. There are more items from Japan's golden age of cinema here too with characters like Astro Boy, Gigantor and Ultraman. Walking through this store is more like a museum so even if you don't plan on buying anything, be sure to check this place out to see a piece of Japan's history.
"Commit" sell countless pieces of Japanese animation. Before it was all digital, animators would have the painstakingly drawing out each frame of the movie on sheets of celluloid to create "cels". These drawings are more of a work of art, and therefore, the prices reflect that aesthetic.
On the 4th floor, you'll find another Mandarake store. This one sells used toys of the highest calibre. You enter the store through a series of torii gates, adding to the gravitas of the experience.
Vintage tin toys that might be the last of their kind sit behind glass and stare blank out at the customers. Many stores on the 4th floor might look closed, but that is because they are just extra storage space with Mandarake uses.
Also on the 4th floor is one of the most exciting game centres the building has to offer. Inside you'll find the traditional UFO catchers and pachinko machines, but there are also some of the best 2D fighting games around. Passionate gamers crowd this rooms from sun up to sunset and even watching some of these matches is as much fun as playing yourself.
If you're feeling like a bit of a break after wondering these seemingly unending rows of shops, head over to Bar Zingaro's on the 2nd floor. Zingaro is a bar/coffee shop/art gallery where you can relax on comfy couches and enjoy one of the artisanal coffee roasts. All throughout the vast interior, there are pieces of art on the walls, books to read and people to watch. It's the perfect place to kick up your feet and get your second wind.
Although Nakano is most known for their toys and comics, several stores throughout feature vintage and handmade clothing. You can find the most ostentatious designs and some diamonds in the rough. I wouldn't' be surprised to see more shops like this start to pop up to drawn in the crowds from Harajuku, fleeing the overly touristy atmosphere which has begun to spread there.
Different owners seem to have their own particular obsessions and collections. This one featured a myriad of Gremlin stuffed animals.
Nakano is where we found the holy grail of Japanese oddities - the vending machine underpants. Although these were once thought to be real, used panties being purchased by creepy salarymen, the ones in the machines now are much less disturbing. Although branded as being "worn" by various anime characters, the underwear is actually brand new, and it's up to the imaginations of the customers to make the most of it.
"Freedom Garage" is located on the first floor and houses within its narrow shelves some amazing animation merchandise featuring characters such as NARUTO, Studio Ghibli and Gintama
But my favourite, of everything we saw, had to be the Sailor Moon collectables. Growing up, Sailor Moon was one of my favourite shows to watch on YTV. I would travel with one of my best friends to Pacific Mall (the biggest Asian mall in Toronto) about an hour away from my house just to buy Sailor Moon trading cards, stickers, stationary (I had lots of this) and more. None of the big box toy shops carried any of these items so to get some we always had to make the trek.
Although Sailor Moon was being aired on TV, it was a still pretty niche. There was no way to download episodes off the internet, so when YTV stopped airing episodes, I had to find them on my own. I called up a dozen of VIDEO RENTAL STORES (remember these?!) trying to find DVDs of more episodes. I finally found Queen Video downtown who stocked all the episodes, subtitled from in English from the original Japanese. I would make the journey on the subway once a week to return the old DVDs and get some new ones. I managed to watch the entire series, with ALL the sailor soldiers - not just the top five that everyone else at school only knew of frm YTV. The stories were more intense and less santized for Canadian TV. I identified with their problems, related to their personalities and fell in love with their boyfriends. It was my whole life for a time.
I always wanted a crescent moon wand (to feel more like Sailormoon herself), but I could never afford to buy one myself, and I don't think my parents had it in them to haggle their way through Pacific Mall (fair enough). Seeing all these toys, some of which I never even knew existed made the little girl inside me come alive. I picked up a small pack of cards (since I had lost all the ones I used to collect) and a small key chain. I would have loved to get more, but that's for another trip...
Dan had the same kind of experience discovering all sorts of 80s wrestling figures and merchandise. Wrestling is very popular in Japan, more so than in other foreign countries, so they had their fair share of imported good and unique collectables that were only ever produced in Japan. There was a replica wrestling ring that I thought for sure was going to be coming along with us but Dan decided to let it go to someone who might get more play out of it.
Nakano is a dream come true for anyone with a soft spot for nostalgia. It feels like walking through a giant toy box. You might not be able to play with anything behind the glass, but the kinds of stories and conversation these toys will bring up is well worth a trip out there. I found so many things on every floor; food, souvenirs, kitchenware, Japanese cosmetics and more! I honestly think I could have done all my shopping right here. Akihabara might be more known popular, but this is the place is the real deal. Don't miss it on your next trip to Japan.